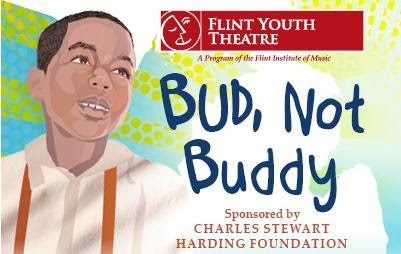 The story of Flint native Bud Caldwell will be brought to life at the Flint Youth Theatre (FYT) stage when Bud, Not Buddy opens March 6 and runs through March 15, 2014. The play is based on the book written by Flint-born author Christopher Paul Curtis, and will be directed by Alfred Bruce Bradley.
"Bud Caldwell's Rules and Things to Have a Funner Life Number 83…If an Adult Tells You Not to Worry, and You Weren't Worried Before, You Better Hurry Up and Start 'Cause You're Already Running Late."
It is 1936, and ten-year-old Bud Caldwell has been in and out of foster homes since his mother died four years ago. With nothing but a bag full of rocks and a heart full of hope, he sets out on a journey to find his true home.
"We are so proud to produce Christopher Paul Curtis's Newbury Medal winning story for our audience, and Mr. Curtis himself will be joining us for the March 6 performance. This moving Depression-era story about an orphan in Flint is a modern classic and our exceptional cast is directed by local legend Alfred Bruce Bradley." says Jeremy Winchester, Executive Artistic Director for Flint Youth Theatre.
Performances
Friday, March 6 at 7:30pm*
Saturday, March 7 at 7:30pm
Sunday, March 8 at 2:30pm
Friday, March 13 at 7:30pm
Saturday, March 14 at 2:30pm*
Saturday, March 14 at 7:30pm
Sunday, March 15 at 2:30pm
*A conversation with the creative team will follow these performances.
Advance tickets for Bud, Not Buddy, which is best suited for ages 8 and up, are $12 for children, $14 for teens, senior citizens and military veterans, and $16 for adults. Tickets are available at Flint Youth Theatre by calling 810-237-1530 or online at FlintYouthTheatre.org. Day-of-performance tickets are $14 for children, $16 for teens, senior citizens and veterans, and $18 for adults.